Image Source: Unsplash
National, June 21, 2022: India's IT/Telecom sector is bustling with hiring activities, with talent demand noting a growth of over 30% in M-o-M and Y-o-Y analysis in May'22. This sector recorded a successive single-digit M-o-M increment in talent demand since Jan'22 but the May'22 gain surpassed all the earlier statistics, reported RecruiteX. TimesJobs RecruiteX is a monthly recruitment index that records the demand and supply of talent at India Inc.
RecruiteX noted an overall growth of 42 basis points from Apr'22 to May'22, corresponding to over 30% uptick in talent demand. This growth was led chiefly by the IT/Telecom (over 30%), Manufacturing & Engineering (14%), BFSI (14%), Automobiles/Auto Components (11%) and Retail (9%) sectors.
"The IT/Telecom sector is witnessing a boom in its business like never before, and hence a rise in talent intake. This sector crossed the US$200 billion mark in revenue in FY'22, as estimated by industry body NASSCOM. With a complete return to offices now, the sector is likely to continue this growth momentum going further too," said Sanjay Goyal, Business Head, TimesJobs and TechGig.
The pre-COVID-19 M-o-M growth for talent demand in the IT/Telecom sector (2019 analysis) fluctuated between 3% to 9%. In 2020, amid the COVID-19 lockdowns, this growth ranged between 1% (in first quarter) to 22% in the last quarter. In 2021 (amid the continuing lockdowns) the M-o-M growth ranged from 2% to 13%.
"The IT/Telecom sector's growth will be fuelled by the adoption of 5G and new technologies such as IoT, AI etc. Job opportunities here will continue to rise, in tune with the May'22 talent demand trends," he added.
Here is a detailed study of the talent demand growth in May'22: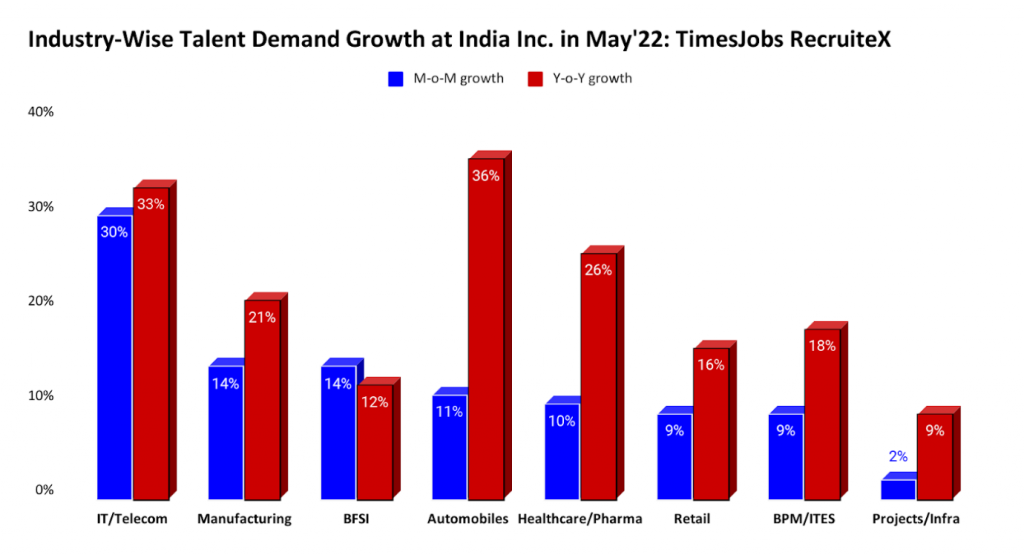 Caption : Industry-Wise Talent Demand Growth at India Inc. in May'22

With most offices reopening in the Mar-May'22 period, the IT/Telecom sector saw the highest M-o-M growth of 29 basis points on the index, noting over 30% growth. Top five gainers for M-o-M talent demand in May'22 were:
IT/Telecom: Over 30%
Manufacturing & Engineering: 14%
BFSI: 14%
Automobiles/Auto Components: 11%
Retail: 9%
Functional area-wise analysis
The IT/Telecom job profile was most sought after in May'22 with 22% M-o-M growth. It improved its talent demand by 19 basis points at RecruiteX. The top gainers for M-o-M talent demand in May'22 were:
IT/Telecom: 22%
Marketing & Advertising: 19%
Banks/Insurance/Financial Services: 15%
Engineering: 13%
Sales/Business Development: 13%
Location-wise analysis}}
Backed by the reopening of offices, tier I and tier II cities emerged as top job hubs in May'22 study. Pune improved its talent demand by 17 basis points at RecruiteX (26% growth) and was the top job hub in the review month. Among the metro cities, Bengaluru gained 18% M-o-M talent demand and saw the highest growth among the mega-cities. City-wise top gainers for M-o-M talent demand in May'22 were:
Pune: 26%
Hyderabad/Secunderabad: 23%
Bengaluru: 18%
Mumbai: 18%
Delhi NCR: 13%
Work experience-wise analysis}}
As companies ramp up their operations to cater to growing business demand, junior executives were the most sought-after work group by experience. People with 2-5 years of work experience grew their demand from 60 basis points in Apr'22 to 69 in May'22, corresponding to 17% month-wise growth.  The top gainers for M-o-M talent demand in May'22 were:
2-5 years of work experience: 17%
5-10 years of work experience: 10%